Sheath Medium Beaded Neck 11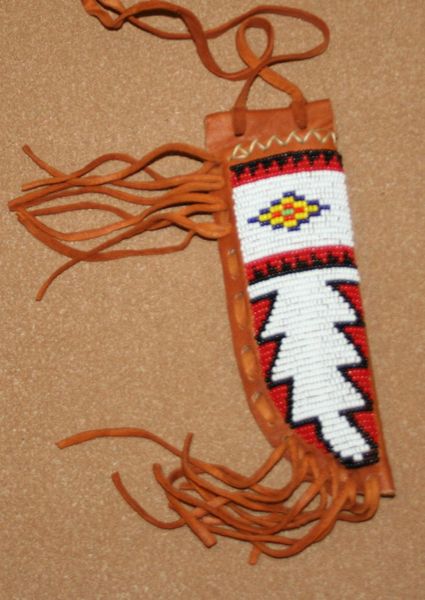 Sheath Medium Beaded Neck 11
Hand-Beaded Neck Knife Sheaths
Our beaded neck knife sheaths are all beaded with geometric designs like those done by early Native Americans. Each sheath is carefully beaded by hand. They're really works of art. The designs and bead colors vary from sheath to sheath so if you have something particular in mind, please let us know so we can pick one best suited to your request.

The "Mini" sheath will fit our "Mini Western Trade Knife", the "Small" and "Small Eastern" fit our "Small Western Trade Knife", and the medium fits all our medium knives and our larger "English Flat Back Hunter".
One-of-a-Kind Beaded Neck Knife Sheaths
These are all one-of-a-kind beaded neck knife sheaths. If you see one you like, it's best to order it right away. We will continually add new sheaths to this section so be sure to visit often. All of these sheaths are our medium size and fit any of our medium knives.