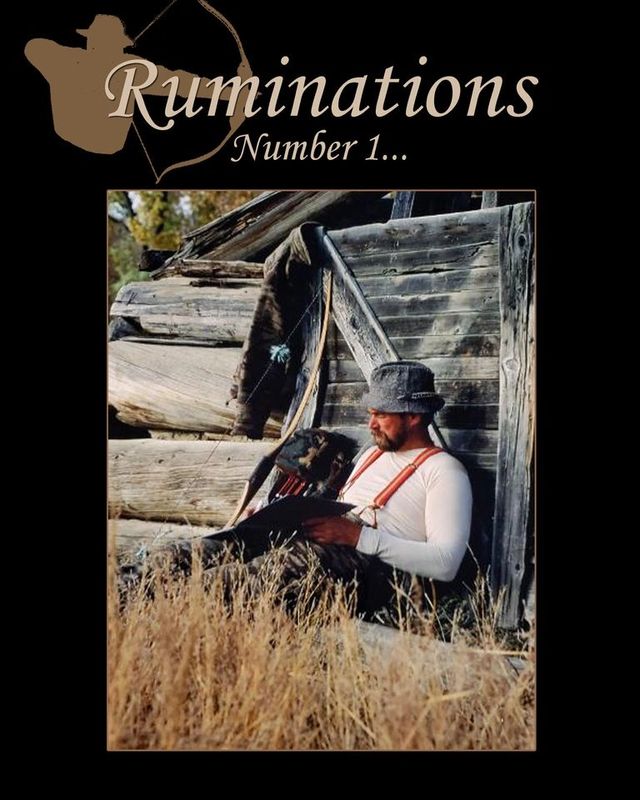 Teaching...
After I grew out of wanting to be a cowboy or an indian I decided being a teacher was what I wanted to be. Odd...no doubt...for a young boy in that day. I always read a lot, prefering history. Remember...TV did not exist at that time and a kid's imagination was a great asset. Unlike most boys in those days I liked school and learning. I had a couple of inspirational male teachers along the way that influenced me a lot...not that female teachers weren't as good, but men seemed to influence me more at that time. And then life took me off in different directions as it has a tendency to do and being a teacher was replaced by the military and then the need for a paycheck, all pushing teaching into the background. And then one day a fella handed me a bow and two arrows, saying "try this." Cowboys and Indians and history came rushing back, literally consuming me. No one knew how to do it, but I had to learn how to do this thing, and I'm not sure how often I laid the bow down or didn't think about how to do this thing for a very long time. I'm not sure I've ever stopped being fascinated by the bow and arrow and learning it's secrets, it's intricacies. That was 50 years ago and I still haven't completely subdued the bow and arrow, but my desire to teach others, almost from the beginning, has grown stronger and stronger. It's still as fascinating, as all consuming, as it was at the beginning. Teaching others to shoot the bow and arrow, has been a great pleasure for me, and I wish I could do it all again.  gfa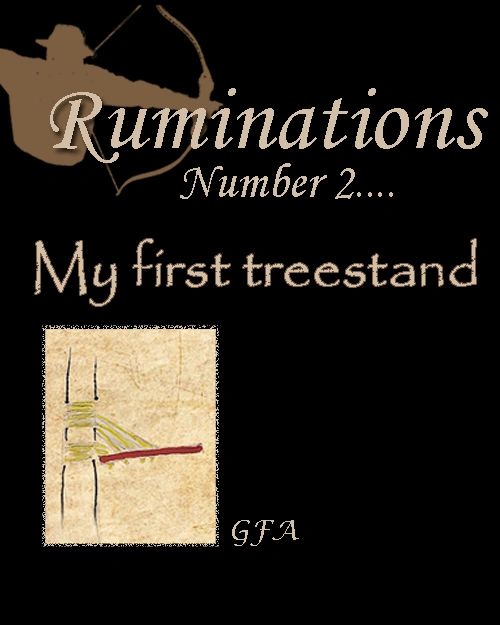 My First Tie-On Tree stand...
Tree stands were not "tree stands" as we now know them in the early years of bowhunting. I think the term "tree stand" came along when they began marketing them. We all simply climbed into a tree and stood on a branch. It was being written that deer did not look up and if you got above them in a tree they'd never see you.  Of course we didn't have many opportunities for that scenario to play out because there weren't that many deer walking around. I sent to Kittredge Bow Hut for a tree stand kit that you could build yourself. The "kit" was a piece of 1/2 inch plywood painted bright red and about 100 feet of rope the size of your forefinger with instructions telling you how to go about tying it up in a tree so you could stand on it and shoot the deer that walked under you. There were holes already drilled in the appropriate places around the board and each was given an identification...A,B,C,D,E, etc. I don't remember how many there were, but there were maybe 15 or 20 of them, on both sides. The idea was to tie the stand at right angles to the tree trunk in such a way that you could stand on it and shoot the deer that walked by. The instructions said not to cut the rope, so the technique involved pulling the rope through hole A (after you tied a knot in the end) bring it up wrapping it around the tree trunk in the right place, taking 2 turns around said tree and then taking it down and through hole B, which was on the opposite side, etc, etc. This went on and on, back and forth, up and down, until you'd used up all 100 feet of the rope, going through the appropriate hole and then back to the opposite side of the stand. It was more complicated and time consuming than this even sounds. And perhaps worst of all it creaked, squeaked, and groaned like I would imagine you'd hear on a sailing ship. It didn't look all that safe to me, and being a cautious fellow with a fear of heights I decided to first tie it up on a utility pole in my front yard, and to tie it a little closer to the ground, which turned out to be a good decision, because when I put my weight on it...sitting...the front of the stand drooped a good 6 inches and the whole affair seemed to move downward several inches.It was all I could do to stay seated on it. I couldn't bring myself to put it up in a tree after that and it stayed there hanging on the utility pole in my backyard alll through that season. Come spring I took it down and eventually used the red plywood to patch a hole in the back of my garage. I did buy a real tree stand a few years later, but I thought of that red plywood stand every time I put it up.