Poncho Evening Stand Brown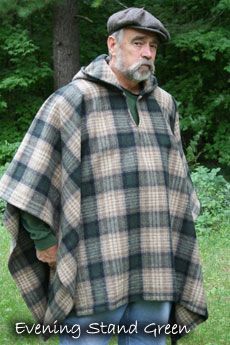 Poncho Evening Stand Brown
Wool Pullover Ponchos With Hoods
Ponchos are a very versatile item of clothing. They're easy on and easy off and effectively mask the outline of a bowhunter. All of the Asbell wool ponchos are hand made from high quality wool right here in the U.S.A. They're a perfect compliment to our other wool items and complete the layering system. Carry one of out wool ponchos with you and you're always ready for when the temps drop or even for a little rain
Even though our ponchos are made with the traditional bowhunter in mind, they're great for anyone who spends time in the outdoors.
All our wool ponchos are whisper quiet and interact with daylight and shadows like a natural camo. Try one of our Asbell wool ponchos today, they're the natural choice.
Our Wool Ponchos are 60" wide and 72" long as a "One Size Fits All" garment.