Medium English Flat Back w/ Leather Belt Sheath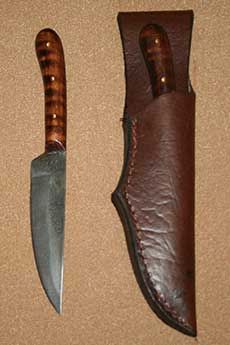 Medium English Flat Back w/ Leather Belt Sheath
Our GFA hunting knives have become very popular with traditional bowhunters everywhere. We kept getting requests to add them to our website, so here they are. Now you don't have to wait to see us in person at a traditional archery event, you can order online any time.

GFA Hunting knives are hand crafted in the USA from high-carbon steel and fitted with fancy curly maple handles. We've standardized the blade shapes, but since they're made by hand they're all still slightly different. The blades are 'antiqued' and each is stamped with the official 'GFA' logo. The quality on these knives is excellent, and we think you'll agree that they're one of the best deals in hunting knives that you'll find anywhere.

GFA Hunting knives are available in many shapes and sizes. From the diminutive 4 1/2" 'Mini Western Trade Knife' to the full-sized 8 3/4" 'English Flat Back Hunter', you'll find a GFA hunting knife that's perfect for any hunting or outdoor situation.

Treat yourself (or a friend) to a GFA knife today!
Hand crafted in the USA
High carbon 1095 steel blade 57-59 RC
Fancy curly maple handles
Etched with a Damascus look
Great Gift Idea!