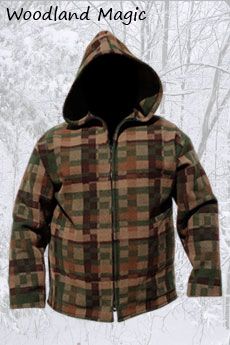 Jacket Woodland Magic
Wool Zipper Jackets
Our popular wool pullovers are now available as Wool jackets with zippers. Due to the full length zippers, Asbell Wool Zipper Jackets are super easy on and easy off. Control the amount of ventilation by un-zipping part way or all the way. We use the best heavy duty ez-pull double zippers available.
"We stitch a little luck into every one."

Wool has been the choice of serious outdoorsmen for hundreds of years, and nothing much has changed…

People who spend lots of time in the outdoors, whether working or playing, still prefer wool knowing that it will keep them warm, even when it's wet, that it wears like iron, and yet, is as quiet as the daintiest feather when brushed against anything. And, after a wearing it a few times, wool takes the shape of your body and becomes as comfortable as any old house slipper could ever be. No one has come up with a product that does all those things, and wool remains the one that all new fabrics are compared against. Our wool comes from sheep in the United States, and our products are designed, sewn and shipped by American labor.