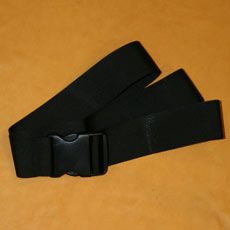 Belt Nylon Webbing
Asbell Belts
Many traditional bowhunters like to use a belt with the longer wool shirts like the Longhunter shown above. We've come up with three belts that should cover just about everyone. Fro the more traditional look, theree is a choice between a nice hand forged buckle or an antique brass buckle on a 2" wide x 56" long leather belt - or for a more modern look, we've got a heavy duty nylon snap buckle on 2" nylon webbing.

Regardless of which one you choose, these belts can hold knives, tomahawks, belt pouches and more. Choose from the selections below.
Note: The leather belts are a full 56" long. To finish them trim them to the length you prefer and punch the holes.