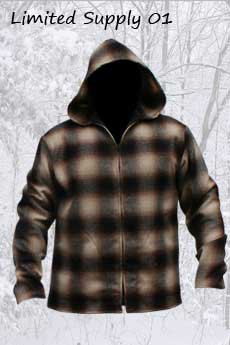 Jacket Limited Supply 01
The End of the Trail. That's just the way it goes. Sometimes we have to let an item or a pattern fade away into the sunset. That's what this section is all about. Items that we are discontinuing.
The trouble is, sometimes we're discontinuing something that some folks think are pretty darn nice. In the past, we've received calls about discontinued items where our customers mentioned that they sure wish they had known ahead of time - and that's what this section is all about. Giving folks a chance to get some of their favorite items before it's too late. We will be adding items to The End of the Trail regularly so be sure to check back often so you don't miss what could be a last opportunity to get some of your favorite items that find themselves at the end of the trail.
Asbell Wool Zipper Jackets
Our popular wool pullovers are now available as Wool jackets with zippers. Due to the full length zippers, Asbell Wool Zipper Jackets are super easy on and easy off. Control the amount of ventilation by un-zipping part way or all the way. We use the best heavy duty ez-pull double zippers available.
"We stitch a little luck into every one."

Wool has been the choice of serious outdoorsmen for hundreds of years, and nothing much has changed…

People who spend lots of time in the outdoors, whether working or playing, still prefer wool knowing that it will keep them warm, even when it's wet, that it wears like iron, and yet, is as quiet as the daintiest feather when brushed against anything. And, after a wearing it a few times, wool takes the shape of your body and becomes as comfortable as any old house slipper could ever be. No one has come up with a product that does all those things, and wool remains the one that all new fabrics are compared against. Our wool comes from sheep in the United States, and our products are designed, sewn and shipped by American labor.
The basic pullover we make today was designed and has been sewn by Teresa Asbell for over 30 years. You could probably say these wool pullovers cut their teeth on whitetail deer, but make no mistake; they're long on experience and have kept hunters comfortable on every mountain and woodland trail throughout the hunting world.
Layering is the secret to being comfortable under just about any climatic conditions, and wools ability to trap air and to generate warmth with minimal bulk makes it particularly usable for layering. "Layering" refers to the practice of putting on more than one layer of clothing, which traps air between layers, and allows the addition or removal of layers as comfort necessitates.
"Everyone is different but with a pair of longjohns and a medium weight wool shirt under my pullover, I can stay comfortable in very cold temperatures for several hours. If I get cold I'll pull on one of Teresa's vests over it all." gfa.