Basic Wool Hoodie Louisiana Bayou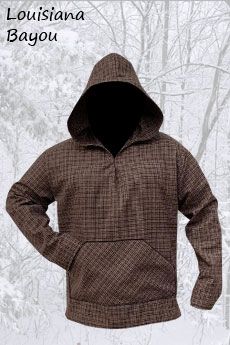 Basic Wool Hoodie Louisiana Bayou
These new lightweight wool hoodies are perfect for taking the chill off when camping, hunting, or fishing. The Louisiana Bayou pattern is equally at home in the woods, or when doing your errands around town. The generous hood fits over hats and caps and comes in especially handy for blocking the wind or protecting you from a sudden rain shower. The handy kangaroo pocket is the perfect place for your phone and whatever other incidentals you'd like to carry. We received so many requests for this hoodie that we just had to make it happen. These lightweight wool hoodies are super comfortable, soft, lightweight, and surprisingly warm. 

Made from the same high quality, soft warm wool fabric that all our Asbell wool products are famous for AND some really great features. 

Instead of the normal slash pockets - you get a true kangaroo pocket that goes all the way through. These pockets are easy to reach and keep your hands toasty warm when the temps dip down low. 

The hoods are roomy enough for caps and hats of all sizes and add an extra layer of protection from the elements. 

You can't beat the soft silent and even water-resistant qualities of our wool for outdoor activities, and Asbell wool is especially effective when stalking and still hunting. 

The ever-popular hoodie in a lightweight wool option is perfect for all outdoor activities when the weather turns a bit chilly.

"We stitch a little luck into every one." 

Wool has been the choice of serious outdoorsmen for hundreds of years, and nothing much has changed… 

People who spend lots of time in the outdoors, whether working or playing, still prefer wool knowing that it will keep them warm, even when it's wet, that it wears like iron, and yet, is as quiet as the daintiest feather when brushed against anything. And, after wearing it a few times, wool takes the shape of your body and becomes as comfortable as any old house slipper could ever be. No one has come up with a product that does all those things, and wool remains the one that all new fabrics are compared against. Our wool comes from sheep in the United States, and our products are designed, sewn and shipped by American labor.

The basic pullover hoodie we make today was designed and has been sewn by Teresa Asbell for over 30 years. You could probably say these wool pullovers cut their teeth on whitetail deer, but make no mistake; they're long on experience and have kept hunters comfortable on every mountain and woodland trail throughout the hunting world.

Layering is the secret to being comfortable under just about any climatic conditions, and wools' ability to trap air and to generate warmth with minimal bulk makes it particularly useful for layering. "Layering" refers to the practice of putting on more than one layer of clothing, which traps air between layers, and allows the addition or removal of layers as comfort necessitates.

"Everyone is different but with a pair of longjohns and a medium weight wool shirt under my pullover, I can stay comfortable in very cold temperatures for several hours. If I get cold I'll pull on one of Teresa's vests over it all." gfa.